Beet, Early Wonder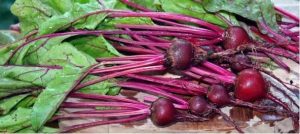 Geography/History:
Early Wonder Tall Top Beet is an heirloom product; it has been around since 1911. Beets have been widely
used in the Mediterranean, few parts of Europe and in Asian countries like India and China since earlier times.
Some beets were also excavated from a pyramid in Thebes, Egypt. This particular variety is known to come
from Crosby's Egyptian.
Nutritional Value:
Beets are high in fiber content and loaded with nutrients. Packed with vitamins and minerals, these beets are
almost as good as Detroit Dark Red Beets, the only difference is that they are not as hard. They contain high
quantities of vitamin B6, B2, C and A. The color can range from dark purple to red with tops that have a deep
green hue.
Sun: Full Sun
Spacing: 3"
Height: 2??-4??
Optimum Soil Ph: 7.0
Days To Maturity: 48-55
Sowing Method: Outdoors
Planting/Growing Tips:
Beet seeds can be planted in early spring or midsummer. Soak seeds overnight in damp towel before planting
for excellent germination. Plant beet seeds 1" apart and thin weakest seedlings to desired spacing. Keep soil
evenly moist to prevent beet roots from getting woody. For longer harvest, stagger beet plantings every 2-3
weeks.